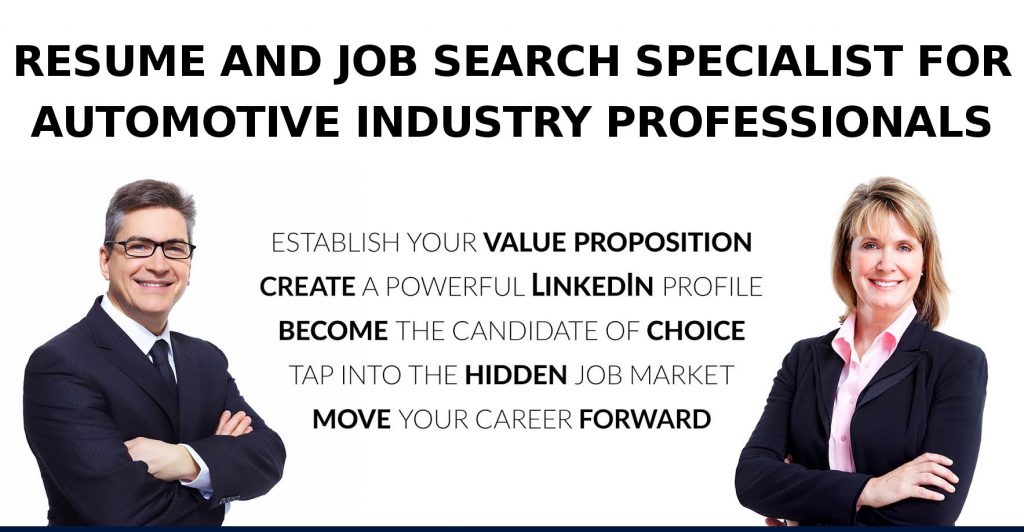 Recommended by Donna Allen for automotive industry resumes.
General Manager • F&I Manager
General Sales Manager • Sales Manager
Controller • Service Manager • Parts Manager
Are you committed to finding a new position or exploring the market to assess your true value?
Our clients receive interviews almost immediately and find positions in 50% less time than average. I'd love to do the same for you.

Marty Weitzman, Serving Clients in the US, Asia, Europe, Canada, Middle East and North Africa.
Are you getting the interviews that reflect your experience, accomplishments, and stature? If your phone isn't ringing, then it's time to contact me to develop a branded resume and provide the strategy that will make a difference in your job search.
With more than 25 years as a successful Career Strategist, Resume Writer, and Executive Recruiter, I know what opens the doors and gets past the gatekeepers. With tried and tested resume writing and job search techniques, I have been instrumental in elevating careers across virtually all industry sectors. My clients have gained success with early stage, entrepreneurial, mid-tier, and Fortune 500 companies.
As an industry leader, I co-founded and was the first president of the National Resume Writers Association where I was instrumental in establishing the prestigious NCRW certification for resume writing excellence, which is still the platinum standard for resume writers today. I actively participate in national and international thought leader conferences that define and establish tomorrow's cutting edge techniques that give my clients the advantage. When resume, job search, and social media trends change, I adapt and capitalize on those changes to get my clients to the top of the decision makers' piles.
I provide personal service that makes the difference. Each of my clients works directly with me, not a subcontractor…..you get my strategy and know how. We work closely together and partner to identify your strengths and accomplishments to ensure delivery of a powerful and winning resume that will jumpstart your career endeavors and make you the candidate of choice!
My clients have made me the #1 recommended resume writer on LinkedIn. They learned first-hand that my only goal to is to help them achieve their success!
If corporations fill executive positions from the top echelon of candidates, then why are executives with an average career track selected over peers with four times the accomplishments?
Is it their résumé?
Strategic packaging and positioning delivers exceptional results.
Your branded résumé is worth its weight in gold, especially when it packages and positions you as a "must interview" candidate. As an executive, think about the ROI criteria you usually expect from a business investment. If your resume were a similar business investment, what would you need to see as a return to feel it was a good decision? 20%? 30%? 50%?
Most executives see a minimum 100% – 200% ROI on their professional branded resume in their first paycheck.
You'll find many writers who boast executive quality, but Marty—the executive's choice—has earned a solid reputation for taking his clients to the top of the candidate short list. His more than 25 years of experience and credentialing as one of the first certified branding coaches in the career services industry ensures that he knows what key decision makers look for above all else, and how to position you for the short list.
While not everyone qualifies to work with Marty, if you are a fit for his exclusive services, you will have his wisdom, experience, and savvy at your command.
You are a skilled executive, outstanding at what you do, but job search is unknown territory. You know friends and associates who have been in job search mode for months and even years. The key to avoiding that fate is to have one of the top professionals in the career industry in your corner.
Why not put your career in the hands of the résumé professional with more LinkedIn recommendations than any other executive résumé writer.
---

Gilbert Résumés™
A Career Network Company
Martin Weitzman
800-967-3846 800-967-3846
marty@gilbertresumes.com
Recognized Career Industry Thought Leader
#1 Recommended Résumé Writer on LinkedIn
Nationally Certified Résumé Writer
Certified Career Consultant
Expert Job Search Strategist
LinkedIn Profile Specialist
Ranked as one of the foremost executive resume writers worldwide, I collaborate with CIOs, CEOs, COOs, Presidents, CFOs, CCOs, CTOs, CAOs, and SVPs throughout the US, India, Singapore, Shanghai, Europe, Hong Kong, Latin America, Middle East & North Africa, and Canada.
Let's continue the conversation, click here to connect with me.